Serie A matchday 2: Roma vs. Inter. Spalletti puts Inter on his shoulders
ROMA-INTER: WHAT A NIGHT!
ON THE SHOULDERS OF SPALLETTI
The Inter transfer market has so far remained below expecations: the top player that they hoped for did not arrive.
The coach: "We are strong, no limits."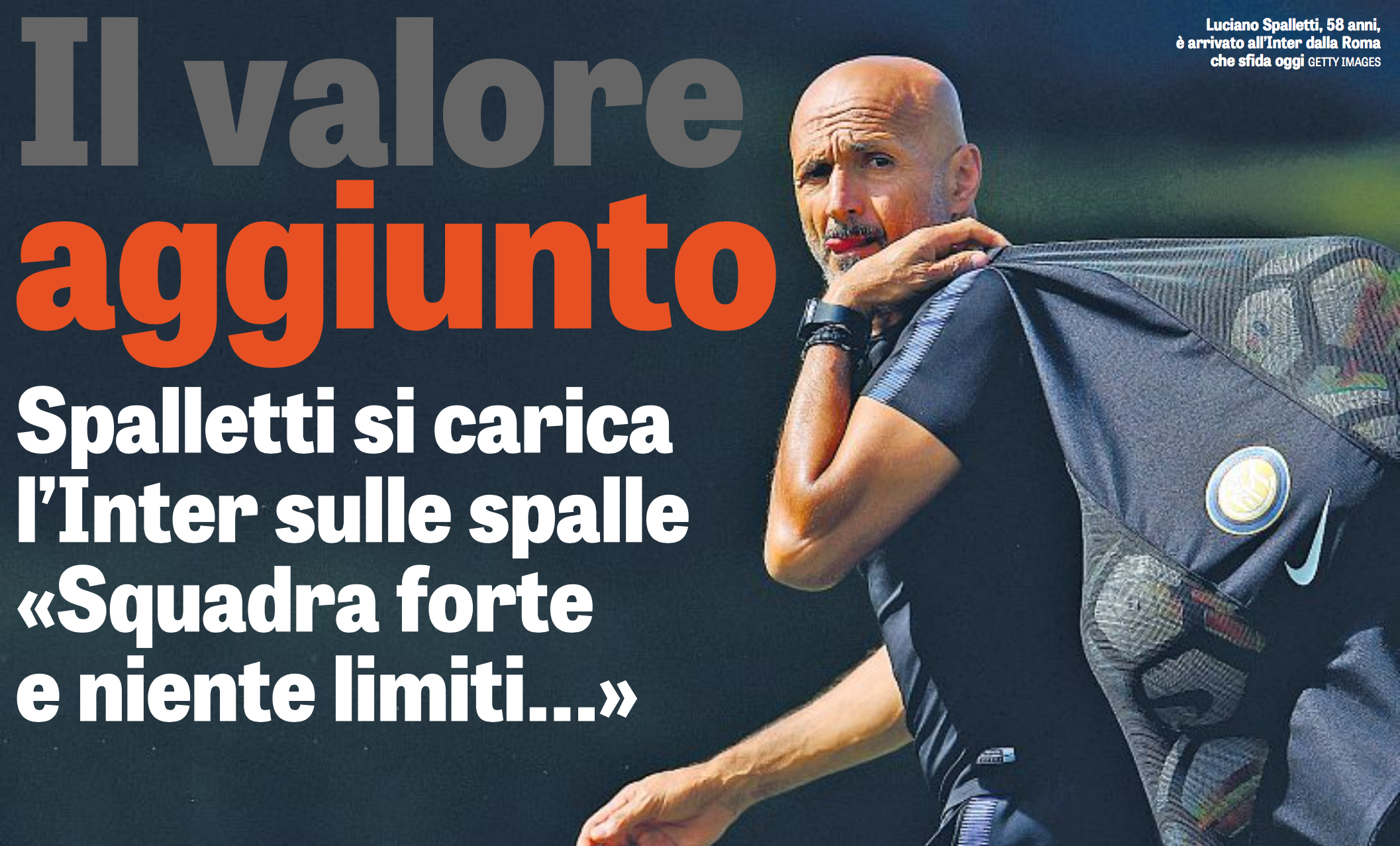 ADDED VALUE
Spalletti fires up Inter on his shoulders
"Strong team and no limits."
Top player still has not arrived, there is zero revolution in respect to the group of last season, the period since Febryary is one of the worst pages in Inter history. The victory against Fiorentina has not completely scrapped the profound traces of general skepticism about a project, that of Suning which, for whatever reason, has failed to take off and has yet to warm up the Nerazzurri souls. The fans now are clinging on to Luciano Spalletti as he is viewed and acknowledged unanimously as an added value for the group, the only world class "signing" that has been brought to Inter in this transfer market window.
Leader - Yesterday during the press conference, it was him leading the troops with chin up and chest out, right on the eve of "his" game against Roma. "Inter are strong and I am happy to work with these players who have shown me what they are made of, technically and in the aspect of human beings: they are true and dependable gentlemen. I have top level stars here while others need to be brushed up a bit. Perisic and Icardi are big time players, they have started very strong. Ivan, in particular, ran back 100 meters to give the defense a hand: sacrifices like this, the team will be able to keep building on that. And this is an example for everyone: we need to improve as a team, sharing the advantage and disadvantage situations of the game." Spalletti is probably expecting a jump in quality from players like Brozovic, Joao Mario and Miranda, a few disappointments of last season.
Probable lineups (Corriere dello Sport and Gazzetta dello Sport)
Regarding the transfer market. "The players that I asked for are here. Dalbert was already a target of the team while I know Vecino and Borja Valero well and I wanted them. The directors (Ausilio/Sabatini) did a good job in bringing me Cancelo through an exchange with Valencia. The Portuguese and Dalbert are great players, they are professionals worthy of Inter. It is not the fault of our directors that something was expected and then it was no longer possible because of rules, common sense and logic that is there in football. Being within the rules is crucial, someone must start doing it and my club has always done it. At first, we aimed at different situations which did not happen but in football, it happens and it is normal to have a change of course. I am proud about what my club has been able to do based on the situation available."
Finally, on ambitions. "I will not settle for anything less, I do not set limits on what we could do. I have confidence in my players, they have great potential and I knew it before I started getting involved directly with them." True leader with a hint of a business man, no fear in taking responsibility: in one press conference, he managed to shield his players, management and transfer market men, while at the same time inviting the fans to dream big. A fundamental move which shows that Spalletti is totally and completely involved in this new adventure.
Doubts of the fans - In the Inter world at the moment, there is no clear sky. The mood of most Interisti is not the best as it is being perceived on the streets, on the social media and in the bars. It is the fault of a transfer market that was promised fireworks in June but has only managed so get a couple of sparks so far. This Thursday all the dealing will be stopped. A trend reversal, in terms of investment level, suddenly happened in early August. Sabatini and Ausilio learned about the new strategy only when they return from the Asian tour. Self-finance only, buy if you can sell first.
Strategic error - Financial Fair Play once again forces Inter to balance its budge once June 2018 approaches. The big "weight" was the double signing last year in Gabriel Barbosa and Joao Mario. Suning has spent a lot during these months despite the same Chinese government inviting the entrepreneurs at home to adjust investment in foreign football. The general error is however strategic: Sabatini and Ausilio had the green light to buy in mid-May and they did develop "battle plans" based on the money available. At the top of their list were Vidal, Nainggolan and Schick. Now completing the team is going to be complicated. Sabatini and Ausilio are still trying and giving all the strength that they have.
Source: Gazzetta dello Sport