SENSI UNDER THE SPOTLIGHT - "Milan? Coming here is the best choice. Cambiasso was incredible but my idol is Xavi. Barella? Bring him here!"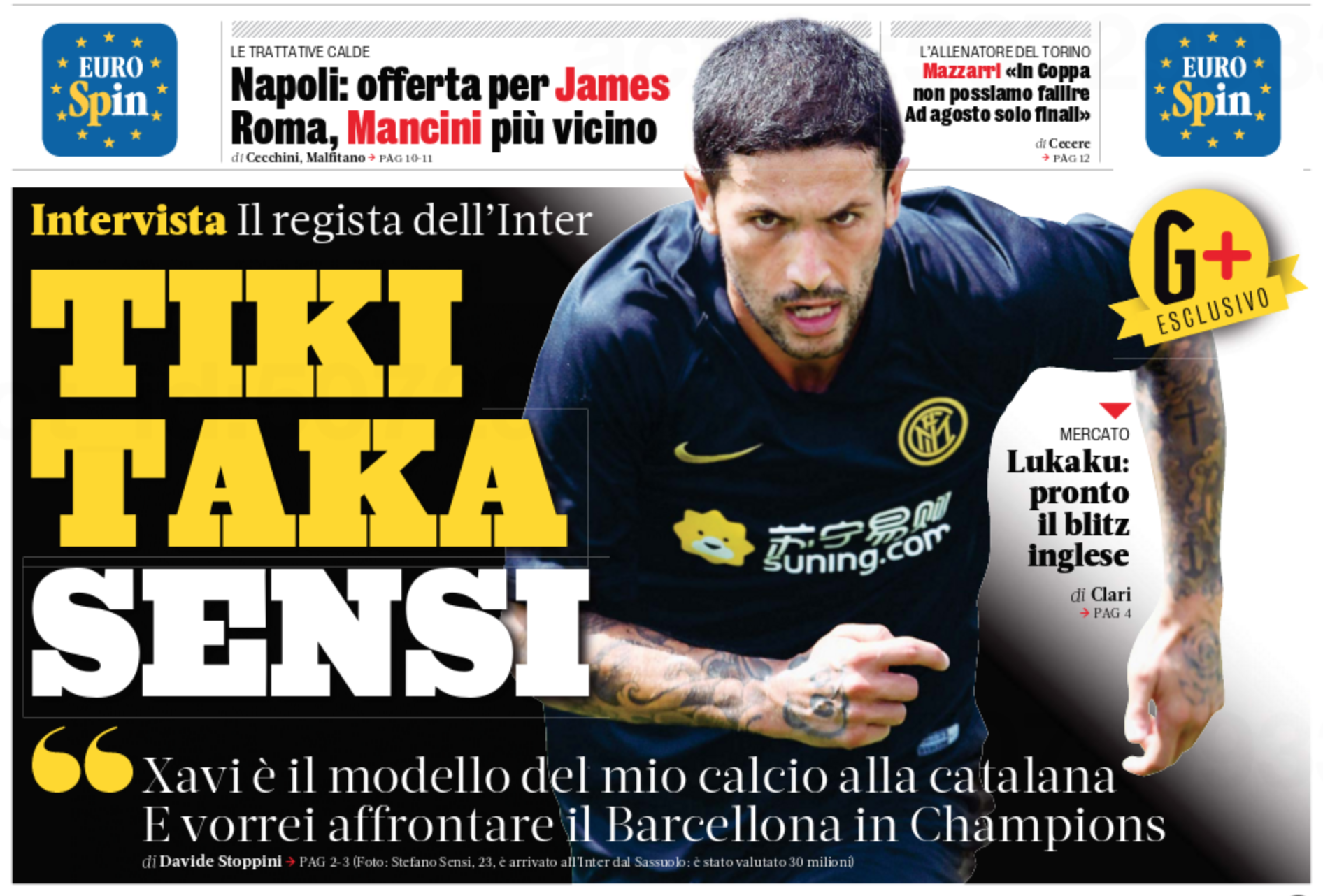 SENSI'S TIKI TAKA
The regista (director) of Inter: "Xavi is the model of my football and of Catalonia. I want to face Barcelona in the Champions League."
SENSI UNDER THE SPOTLIGHT
"I think like Xavi and will study from Conte. Inter will win something this year."

"I'm improved by watching Barcelona videos, that's why I play like that."

"Conte will bring winning mentality. To Barella, I would say bring him here. Milan? This is my best choice."
His last name is just a coincidence because Stefano has five Sensi (senses) to fall in love with Inter and he is using them all. He saw a team that "can win a trophy already this season," listened to Antonio Conte filling his head with words like "manner and respect," smelled a great year when Steven Zhang told him "let's bring Inter together where this club deserves," anticipated "the derby and the challenge to my Barcelona," and touched the "winning mentality of Conte."
What is it really like? Do you really enter into a new dimension with Conte?
"It's just like how I imagined it, this is Inter. I begin a new life but it seems to have always been here."
Well, but don't say that Conte did not surprise you…
"He has a special approach with us the players. He is a man of great impact. On Sunday evening, as soon as we arrived in Lugano, he gathered the team together and said: 'I don't need to tell you too many things, but know that my basic concepts are two: manner and respect. Always refer to those.' And he's right. Because it's useless to put too many rules in the team because at the end of it all, if you behave politely with manner and with respect and you live with those two things inside and out, it's impossible to go wrong."
How did you find yourself at Inter? Everyone thought you were on your way to Milan…
"It was a surprise for me too. One day, my agent called me and talked to me about the possibility, I didn't even give him time to finish the speech. My heart was filled with joy, I made the best choice. And these first days have already confirmed it to me."
And Juve, was there anything?
"I actually came to Sassuolo because of the direction of Juventus. But I'm not looking back now…"
Have you ever thought in your career that "what if I cannot make it"?
"Yes, I talked about it with Carnevali (Sassuolo CEO). My first year at Sassuolo and the jump from Serie B to A, everything around me had changed. I made mistakes because of my young age, I was very wrong. I found myself overwhelmed but fortunately, I learned from my mistakes. And thanks to my girlfriend and family, I'm here today. It was them that nudged me back on track."
Is it true that you have a tattoo dedicated to your girlfriend?
"Yes, this one (shows his hand): it's a panda, the same one that she has. It's the fruit of our promise of love."
Is it true that someone said that she would never become your partner because of your size?
"Yes, there were those who said these things. I accepted it all. I gave my best response with the national team. Do you know how I scored my first goal for Italy? A header…"
Maybe with 10 centimeters taller, you would not have been one of the greatest Italian representatives of Tiki Taka…
"I owe everything to Fernando De Argila. He was Spanish and lived in Catalonia, his football ideas were influential. He coached me in San Marino. He was first to really believe in my characteristics. He also imposed me in front of those who did not accept my way of playing. He told me: 'Decide before the match what you want to do, look where you want to go before the ball gets to you." There's everything in those words. I also lived the same with De Zerbi, same style of play, same philosophy."
You came to a team with great tradition of pitch directors and midfielders.
"The phenomenon was Cambiasso: he was incredible. He managed to move the team without touching the ball. I often looked at it and said 'how did he do that'? But my idol has always been Xavi."
Have you ever met him?
"No, never. But it's like a family: I grew up watching his games, I supported Barcelona when I was a child. I stole his moves with my eyes. The way I play, my style, there's always something similar to his. But I was crazy about football in general, watching any match on TV, Brazilian and Argentinian league. I really watch everything."
The pitch director (regista) of the last Inter was Brozovic. How could you guys play together?
"I considered him a great player before coming here and I now have confirmation just after a few training sessions. I say this: he will be a motivation for me but I will also be that for him."
Has Conte already shown you Pirlo's videos?
"Not yet…"
Your coach said that he has "no limits." Are you ready to fight for the Scudetto too?
"My idea is that work always pays off. And ambition must never fail. And I have already seen and understood that the team has this mentality."
You didn't answer. Let's try this: will it be easier to win the European Championship with Italy in a year or a trophy with Inter this upcoming season?
"Can I say both?"
No…
"I think Inter have everything to start winning this year. The president also told us this. He was here in camp. I talked to him personally when the contract was signed. I was impressed by his ideas. He told me that 'we must together bring Inter to where the club deserves to be.'"
Looking from the outside: what was missing at Inter last season? Why didn't the club win any trophy?
"I cannot say that the players were lacking. I think Inter did not have a winning mentality. And in this sense, having Conte here can represent the turning point."
As a newcomer, how do you deal with the cases of Nainggolan and Icardi?
"They are part of the group, they are with us. But then I'm not going to talk about the rest, management has spoken about it."
Conte said that "a good coach is the one who improves his players." How should Sensi improve?
"In everything. But one in particular: I'm short but I should still improve my timing in the air. In the history of football, there have been those who are excellent but at the same time not very tall."
Capello once said in a recent interview that "I would ask my president to buy Sensi and then Barella."
"I remember those words well. They are the things that help you to push on and not standing still. Barella is great too."
What is this? An endorsement?
"I met him and we got along very well in the national team. I would love for him to join me at Inter."
Who is the best midfielder in the world?
"Two names: Pjanic, very impressive. And the other is Verratti."
Two matches that came to your mind.
"As a fan, it was Barcelona 6-1 PSG, the return leg of 2017 Champions League second round. As a player, it's an easy one: Sassuolo-Crotone, my first goal in Serie A. Strong emotion in that one."
What is the one match that you are looking forward to the most in an Inter shirt?
"I've got two in mind. The first is the derby against Milan, which has huge appeal. And the other is Inter-Barcelona."
When?
"I have always supported them, I hope to face them in the Champions League: I'm waiting for the group draw…"
You were a goalkeeper when you were a child: is the number 12 because of it?
"Absolutely not. It's a number that I chose at Sassuolo because it differentiates me from the others, it's not usual for a player of my position. I'm very fond it, and I'll keep it here too."
You are very determined. But do you have a secret? where do you find your strength?
"In this tattoo (shows the arm again). It's written 'it's not the end until you give up.' It's a phase by Nick Vujicic: once I saw it by chance on Youtube, one of his speeches. He's a man born without arms or legs, he has an incredible willpower, he is a motivator that makes you think. Every now and then I just stand there and listen to it."
Source: GdS